Quilts for Sale
I have decided that I need to sell some of my completed quilts. There are only so many beds in any house, and I need room!
Most of these quilts have appeared in Australian Quilting Magazines, such as Australian Patchwork and Quilting; Patchwork and Stitching; and Beautiful Country Quilts.
Some have valuation certificates, others do not. I have based the prices of those without certificates on the values of others of a similar size and amount of work.
Please feel free to contact me on Wendy@Legendandlace.com for further information and additional photographs.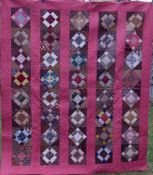 Puss in the Corner or Nine Patch Variation
Puss in the Corner or Nine Patch Variation. Made from Reproduction Style fabrics. All cotton, with cotton ba…
$AU350.00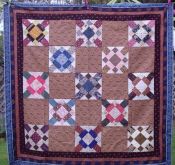 Fort Sumpter Quilt
Sort Sumpter quilt. Published in Australian Patchwork and Stitching magazine. All cotton, with cotton battin…
$AU250.00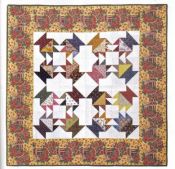 Basket Case quilt
Basket quilt, made from Reproduction Style fabrics. All Cotton, with cotton batting. Machine pieced and Mach…
$AU300.00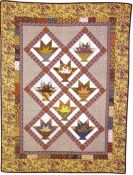 Cactus Flower Quilt
This Cactus Flower quilt is made up of 8 blocks, set onpoint. The overall size of the quilt is 54" x 72"…
$AU300.00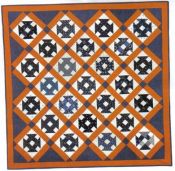 Antique Indigo Wrench Quilt
Antique Indigo Wrench. The quilt is made from assorted indigo fabrics, on shirting background. The blocks ar…
$AU450.00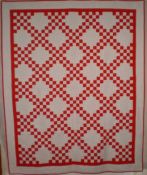 Double Irish Chain quilt
This is a single bed sized quilt. Machine pieced and quilted. Cross hatched across the main part of the quil…
$AU450.00